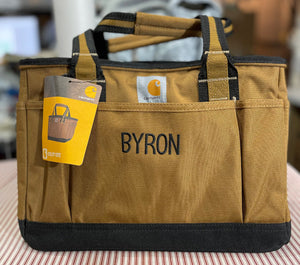 Carhartt
---
See the complete list of Carhartt products we have access to here:  Carhartt.   The Carhartt items available on our website are ones we have samples of and can talk more in depth about due to personal experience.  But if you see something at the Carhartt link that you are interested in, please do not hesitate to reach out.  Use the chat feature on the website or email us at CustomerService@Rubyco.biz. 
Rubyco, LLC is an authorized reseller of Carhartt brand products.  We strictly follow all the rules and requirements of being an authorized reseller.  Carhartt products are not included in any sales or promotions.  Applying designs that negatively impact the Carhartt image is strictly prohibited.  We are happy to work with you to add names, initials, logos and other such designs as long as they do not negatively impact the Carhartt brand. 

Carhartt products are only available with decoration per manufacturer's terms.  
Carhartt products do not qualify for discounts including all sales, promotions, coupon codes, the Brand Ambassador Program, or any other programs or offers - current or future. 
Sorry, there are no products in this collection.